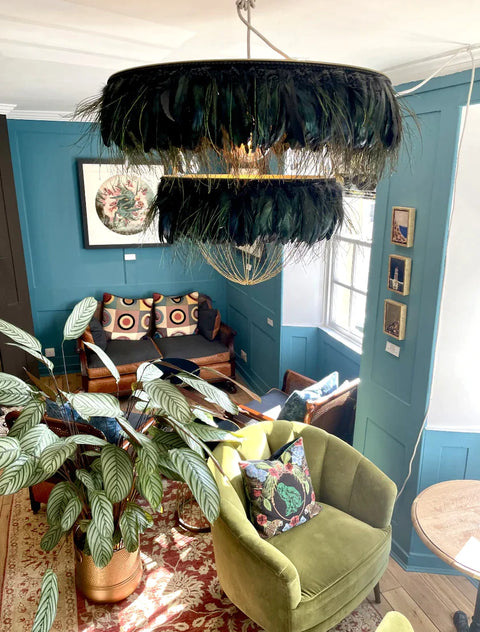 Feather Lampshade Ideas For Your Living Room & Home
Lighting is the magic ingredient in interior design. Whether you're designing a new living room or looking to make a few easy improvements to your space. Think of lighting as a key element in your interior design considerations.
From a subtle glow in a dark corner to a dramatic pendant light centrepiece. Lighting plays an integral part in creating atmosphere, tone and character in your home. In this blog we'll look to explore how your room lighting can improve your living room and overall home.
Design Says A Lot About Us
Increasingly, our homes are seen and enjoyed as extensions of our personalities and values. We have seen a huge growth in the popularity of interior design TV shows and podcasts. Along with the use of social media as accessible platforms for sharing ideas and finding inspiration. This reflects the fact that people are investing themselves more than ever in the aesthetic and comfort of their homes.
Be Dramatic
I imagine that's why you're here too. Sometimes we simply need someone to tell us 'Don't be afraid of being bold if you want to'. Or 'use texture if that sparks joy for you'. You can make it dramatic or make it discreet; it's your space, make it resonate with what makes you happy.
"Have nothing in your house that you do not know to be useful, or believe to be beautiful."
William Morris
A Blank Canvas
When starting with a blank canvas, the number of decisions to be made can feel overwhelming. From colour schemes and furniture choices to locating sockets and switches. When it comes to lighting, it's useful to consider a few practical questions. These questions will help steer your way through the many choices you will need to make in your interior design journey.
Questions To Consider When Living Room Lighting Ideas
How you intend to use the space will help you to think about what lighting you might want.
Is it a place for relaxing with soft, restful pools of glowing of light?
Will you need a task light for working or reading?
Would your dining area benefit from a decorative pendant for some statement dining table lighting?
Some of these decisions will become obvious as you understand how you will inhabit your home.
More is Better
Use several light sources in your space. A single light can have a tendency to make everything look flat and dull. As a rule of thumb, a comfortable and well lit space will ideally have 5 to 7 light sources. Table lamps, task lights, and pendant lights all form part of the ensemble that will make your space sing.
Lighting For Every Style
Relaxed
A comfortable and convivial living space is best achieved by spreading out a variety of light sources throughout.
A Centrepiece
A statement pendant light is a perfect opportunity to have a focal, decorative feature in your space. If in the dining room, this will work well as focal, low slung, dining table lighting. A bigger light fitting works well here for impact and zoning.
Atmospheric
A discrete up-light in the corner of a room can create a beautifully cosy glow. Tall plants placed in front of this can be dramatic and atmospheric when back lit or silhouetted.
Draw The Eye
Table lamp based lighting can be very powerful, especially when strategically placed. They are great for creating habitable nooks and for drawing the eye to a chosen point of interest.
An artefact, a console table, a comfy chair. Layer this up with directional task lighting, for reading. A sconce light or wall light can draw attention to a special piece of art and add interest at eye level.
Altering The Vibe
When there are multiple lighting sources, it becomes possible to alter the mood, feel and even function of a space. By adjusting which mix of lights are used together.
Dimmer Switches
For ultimate control of the palette of lights, dimmer switches are invaluable. These are commonly used for pendant lighting and plugged in table lamps. They can also be dimmed by using a dimmer plug socket.
Colour & Texture
At Coldharbour Lights we are extending our Rio Collection to include table lamps and floor lamps. Our pendant feather light shades and feather chandeliers will remain at the centre of our work. The combination of light, colour and texture is celebrated in our feather light fittings is one of Coldharbour Lights' defining characteristics.
As a brand, we bring together the world of lighting and that of maximalist textural interior design. So where to start if you are choosing feather colours?
Anchoring The Room
At times, one beloved piece can be the anchor for an entire room scheme. A whole series of choices can fall into place quite organically. It could be an exquisite Wendy Morrison rug or a beautiful Newton Paisley fabric thats the focal point. It sets a whole series of colour decisions in motion.
How We Work Colours Into Our Designs
At Coldharbour Lights we regularly have clients send us an image of a room or a swatch of a fabric. This is to match the interior design scheme in the lighting. We once matched the owner's purple hair colour as a surprise for BBC1's DIYSOS. We can suggest feather colours and send samples for consideration and, if required, we can organise a bespoke colour dye.
Maximalist Interiors
Many of our customers thrive in cosy maximalist interiors, enjoying layers of texture and pattern. Cosy maximalism is a growing trend which encompasses saturated colours with a focus on comfort and well being. It creates space for expressing personality and stories through eclectic mementoes and collected treasures.
A feather pendant lamp from Coldharbour Lights will add a bold beacon of colour. As well as a playful layer of texture and an element of nature to a maximalist interior.
More is More
"Maximalism is the art of more-is-more. Layered patterning, highly saturated colors, ample accessories ….. and a real sense of playfulness and bold gestures,"
Keren Richter, interior designer at
White Arrow
, tells Vogue.
Pleasure in More
Siobhan Murphy's book More is More Décor also extols the pleasures of maximalism. I think she has a feather light in every room of her home!
Find a Balance
I have seen our feather light shades used really effectively in pared back room schemes too. The softness and texture of the feathers can provide a welcome balance. Creating an equilibrium to the hard surfaces of furniture and walls, as well as offering an easily achieved pop of colour.
Brighten Your Ideas
If you're looking to add lighting designs to your home we can help. From shabby chic to Mid-century modern, we can help bring your ideas to life. If you want to chat to help your decision making process, please get in touch.View our feather gallery to find out more information.